Oxidation and rancidity are considered to be majors food spoilage challenges for the food and beverage industry. Consumers have been socially aware about the extreme disadvantages of chemical grade antioxidants used traditionally. Consumer demand and interest in new natural antioxidants is increasing, keeping into account the disapproval of chemical grade antioxidants such as BHA (E306), TBHQ (E304), Ascorbate (E302) etc.. Handary has been a market player of change since the past 13 years. We provide two Oil soluble antioxidant products, Guardox™ CA carnosinic acid concentrate and Guardox™ TG Palmitoylated green tea extract. These products are effective in delay oxidative spoilage and rancidity meanwhile prolong the shelf life in oils and fats products.
Guardox™ CA
CARNOSIC ACID CONCENTRATE
DESCRIPTION
Guardox™ CA is a sunflower carried Carnosic acid from rosemary extract, and mainly used as an antioxidant to reduce oxidative spoilage in the products of oils and fats.
KEY BENEFITS
• Delay of oxidative spoilage
• Slowing down the color fading and off-flavor
• Shelf life extension
• Natural, Consumer-friendly label
APPLICATION AREAS
Oils and fats products (e.g. Frying oils, Meat products, Roasted nut, Snacks).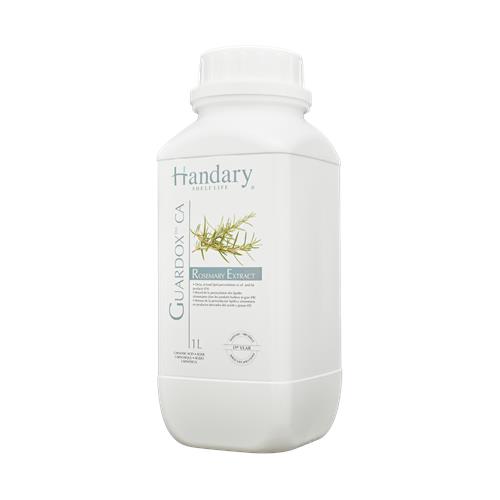 Guardox™ TG
PALMITOYLATED GREEN TEA EXTRACT
DESCRIPTION
Guardox™ TG is a lipid-soluble natural green tea extract rich in tea flavonoids and is mainly used as antioxidant to delay lipid oxidation in various food products.
KEY BENEFITS
• Delay of oxidative rancidity
• Anti-acrylamide
• Shelf life extension
• Natural, Clean label
APPLICATION AREAS
Fats and oils (e.g. Butter, Margarines).