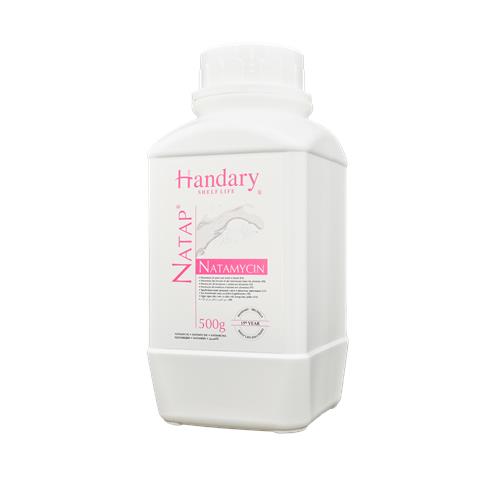 Introduction
Applications
Natap® Natamycin is a natural occurring antifungal agent produced during fermentation by the bacterium "Streptomyces natalensis". At Handary, Natap® has been recrystallized to achieve the optimal solubility to effectively eliminate the risk of yeasts and molds in food and beverages.
Natap® is up to 200-1,000 times more efficient than chemical preservatives. Natap® natamycin is effective at low concentrations (1-10 mg/kg) and active against most yeast and mold, but has no effect on bacteria, protozoa, or viruses. Food industries that rely on fermentation by bacteria have found natamycin to be very useful because it does not interfere with the fermentation or ripening processes. Most molds are inhibited at concentrations of 0.5 to 6.0 μg/ml, while most yeasts are inhibited at concentrations from 1.0 to 5.0 μg/ml. In addition, Natamycin has no or very little influence on organoleptic qualities and is not known to cause allergic or sensory reactions.
Natap® – effective inhibitor of Yeasts and Molds for:
Applications

Dosage

Bakery

Baked goods

10-20 mg/kg

Soft tortillas

20 mg/kg

Mooncakes

20 mg/kg

Beverage

Fruit juices

2-3 mg/kg

Culinary

Canned foods

6 mg/kg

Salad dressings

20 mg/kg

Processed meat products

200-300 mg/kg

Canned chopped meat, canned corned beef, cooked cured luncheon meat, cooked cured pork shoulder, biltong, frowen cooked-meat pie fillings

6 mg/kg

Fish sausages

6 mg/kg

Manufactured fish products, fish paste, fish roe and

spawn

6 mg/kg

Sausages, salami and hot dogs

1 mg/dm2

Dairy

Cheese

20 mg/kg

Cooked Cheese

2 mg/dm2

Cottage cheese, cream cheese, process of blended cheese

7 mg/kg

Cheshire, Edam, Gouda, Tilsiter, Limburger

cheddar, Grated / shredded cheese

2 mg/kg in rind; 10 mg/kg for surface application

Cheese rinds

Hard / semi-hard paste cheese

1 mg/dm2

Semi-hard cheese, and semi soft cheese

5-10 mg/kg

Yoghurt

5-10 mg/kg

Sour cream

7 mg/kg

Fruits and vegetables

Pineapples

400 mg/kg

Mushrooms

150 mg/kg
APPLICATION AREAS
Select typical case studies
Natamycin under Natap® brand is a food preservative that is approved and used in more than 50 countries around the world. The WHO, EFSA and FDA have evaluated Natamycin thoroughly and all list it as safe for human consumption.
Geographic Area

Approved food applications

Max. dosage

Algeria

Cheese rinds

2.5 g/L

Argentina

Hard and semi-hard paste cheeses

1 mg/dm2

Specified processed meats

1 mg/dm2

Australia & New Zealand

Cheese rinds

15 mg/kg

Uncooked fermented manufactured meat products

Penetration 3-5mm

Bahrain

Permitted food preservative

No limit

Brazil

Hard cheese

2 mg/dm2

Canada

47 listed Cheese

20 mg/kg

Grated/shredded cheese

10 mg/kg

Chile

Hard cheese

12.5mg/kg

China

Cheese, processed meat products, mooncakes, baked goods, fruit juices

200-300 mg/kg

Colombia

Cheese

12.5 mg/kg

Costa Rica

Pineapple

400 mg/kg

Ecuador

Cheese

20 mg/kg

Egypt

Cooked cheese

2 mg/dm2

Ecuador

Cheese

No limit

European Union

Surface treatment of hard cheese and semi-hard cheese, dried sausage

1 mg/dm2

India

Hard cheese

2 mg/dm2

Israel

Specified cheese

No limit

Jordan

Permitted food additive

No limit

Kuwait

Permitted food additive

No limit

Lebanon

Permitted food additive

No limit

Mauritius

Hard cheese and semi-hard cheese, dried sausage

1 mg/dm2; Penetration limit of 5 mm

Mercosur

Cheese

1 mg/dm2; 5 mg/kg; Penetration limit of 2 mm

Mexico

Cheese

0.002%

Morocco

Cheese

20 mg/kg

Processed meats

20 mg/kg

Oman

Specified cheese

No limit

Paraguay

Cheese

No limit

Philippines

Cheese

No limit

Qatar

Permitted food additive

No limit

Saudi Arabia

Food preservatives

No limit

Singapore

Cheese

20 mg/kg

South Africa

Fish sausages (to be applied to the outer inedible casing only)

6 mg/kg

Manufactured fish products, fish paste, fish roe and spawn with exception of frozen fish and canned fish products

6 mg/kg

Edam, Gouda, Tilster, limburger cheddar, Cheshire

2 mg/kg in rind; 10 mg/kg for surface application

Cottage cheese, cream cheese, process of blended cheese, including cheese spread, process cheese preparations and soft cheese

10 mg/kg for application to the surface of the cheese

Yoghurt

10 mg/kg

Canned foods

6 mg/kg

Manufactured meat products

500 mg/kg on casing or 6 mg/kg in contents

Canned chopped meat, canned corned beef, cooked cured luncheon meat, cooked cured pork shoulder, biltong, frozen cooked-meat pie fillings

6 mg/kg

Taiwan

Hard, semi-hard cheese, dried, cured sausage

20 mg/kg

Tunisia

Hard, semi-hard cheese, and semi soft cheese, dried, cured sausage

1 mg/dm2

Turkey

Hard, semi-hard, and semi soft cheese, dried, cured sausage, salami and hot dogs

Penetration limit of 5mm

Ukraine

Cheese

20mg/kg

Uruguay

Cheese

20mg/kg

United Arab Emirates

Permitted food additive

No limit

United States

Cuts and slices of cheese

20 mg/kg

Nonstandard of identity yoghurt

7 mg/kg

Nonstandard of identity cream cheese

7 mg/kg

Cottage cheese

7 mg/kg

Sour cream

7 mg/kg

Soft tortillas

20 mg/kg

Nonstandard of identity salad dressing

20 mg/kg

Venezuela

Specified cheese and sausage

0.5% suspension

Vietnam

Preservative

No limit

Yemen

Permitted food additive

No limit